Welcome to Francie Millar R.M.T, LD
A Healing Experience

Francie Millar is a Registered Massage Therapist with MTAS (Massage Therapy Association of Saskatchewan) and a Labor Doula with Birth Rhythms, in Saskatoon. She is a highly motivated and driven individual bringing that focus and energy to her treatments along with a soothing therapeutic touch. Massages with Francie emphasize therapeutic recovery and rehabilitation tailored to each individual's needs and goals. She is dedicated in bringing her clients the very best and forefront in massage coupled with an education in relaxation and self healing.
"When working with my clients, each is a new experience and challenge. Every body brings a unique pattern of texture, tension, and injury. My goal in all of my treatments is to facilitate a stronger more united communication between the muscular soft tissues and the mind. It is an honor assisting in that shift towards balanced wellness."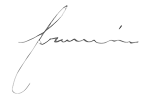 Hours of Operation
Tuesday: 11:00-8:00
Wednesday: 11:00-8:00
Thursday: 11:00-8:00
Friday: 11:00-8:00
Saturday: 10:00-6:00
Sunday: Closed
Monday: Closed
Payment Options: Debit, Cash/Check, Visa, and Mastercard.
Appointment requests outside of normal business hours are subject to a $20 fee.
News and Updates
After a busy couple years I am only accepting new female/pediatric clients by special request. If circumstances cause you to seek me out please contact me directly.
My practice specializes in Women of All Ages and in All Stages of Life. I also have specialized training in supporting those going through fertility treatments/pregnancy/post pregnancy.
Please feel free to contact me with any questions. Wishing you all a happy 2018!